One Who Overflew
---
In the Stack Overflow database, the biggest (and probably most important) table is Posts.
The Comments table should be truncated hourly. Comments were a mistake.
But the Posts table suffers from a serious design flaw in the public data dump: Questions and Answers are in the same table.
I've heard that it's worse behind the scenes, but I don't have any additional details on that.
Aspiring Aspirin
---
This ends up with some weird data distributions. Certain attributes can only ever be "true" for a question or an answer.
For example, only questions can have a non-zero AcceptedAnswerId, or AnswerCount. Some questions might have a ClosedDate, or a FavoriteCount, too. In the same way, only answers can have a ParentId. This ends up with some really weird patterns in the data.

Was it easier at first to design things this way? Probably. But introducing skew like this only makes dealing with parameter sniffing issues worse.
Even though questions and answers are the most common types of Posts, they're not the only types of Posts. Even if you make people specify a type along with other things they're searching for, you can end up with some really different query plans.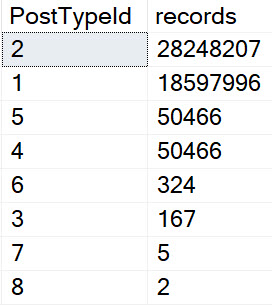 Designer Drugs
---
When you're designing tables, try to keep this sort of stuff in mind. It might not be a big deal for small tables, but once you realize your data is getting big, it might be too late to make the change. It's not just a matter of changes to the database, but the application, too.
Late stage redesigns often lead to the LET'S JUST REWRITE THE WHOLE APPLICATION FROM THE GROUND UP projects that take years and usually never make it.
Thanks for reading!
Going Further
---
If this is the kind of SQL Server stuff you love learning about, you'll love my training. I'm offering a 75% discount to my blog readers if you click from here. I'm also available for consulting if you just don't have time for that and need to solve performance problems quickly.